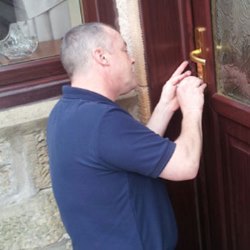 It's not uncommon to find yourself locked outside your home or your car or even forgetting where you've placed your keys. When these issues arise, it is important that you have a reliable residential locksmith to turn to for immediate assistance. However, with the number of locksmiths available, how will you be able to discern which ones are worth considering?
Tips to Consider when Hiring a Residential Locksmith
It's easy to fall prey to locksmiths who are just there for the money. Some would charge you an exorbitant amount for such a simple job while others won't give you the best value for your money. To avoid the headache of having to deal with incompetent locksmiths, here are a few tips to follow so you can find the right company to hire.
First, you need to be familiar with your local locksmiths. Of course, if you are in an emergency situation, your residential locksmith should just be a few minutes away from you so you won't have to wait very long.
Second, check out the services that they are offering. There are some that claim that they can do various jobs involving locks but aren't able to meet them satisfactorily. Unless the locksmith you want to hire has been in the business for years, don't just jump on the opportunity of hiring a locksmith with dozens of services offered unless you check their background and found them to be reputable.
Third, reputation is essential when looking for a locksmith to hire because this will tell you if you are dealing with a pro or not. Check their background as well as clients' feedback to get a feel for the company.
Fourth, always compare prices. A residential locksmith who gives quotes then jacks up the prices afterwards should raise alarm bells as it means that the locksmith is just there for the money and would milk you dry if you allow them. Don't assume that in order to get quality service you have to pay a lot. There are residential locksmiths that offer decent rates for high-quality work.
Fifth. Make sure to hire a certified locksmith. When you hire a certified locksmith you are insuring that you are receiving the upmost professional residential locksmith service.
Why Hire a Residential Locksmith
It may sound like a good idea to skip hiring a professional locksmith because you don't want to pay anything extra but unless you are familiar with various locking mechanisms as well as their functions, it is best to leave this kind of work to the pro so you won't be compromising the safety and security of you and your loved ones.
A professional residential locksmith is someone who will be able to replace broken locks, install brand new ones, and even help you out of a tight spot or emergency situations like broken keys or lost keys so you can get inside your home safely.