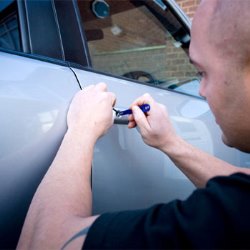 Car lockouts are really very common – most people get locked out of their car at some point in their life. What happens in a car lockout? Well, you cannot get into your car, as simple as that. There are several reasons for this – you lost the car keys while shopping at a mall and have no idea how to get it back; you broke the key in the car door lock; or car key doesn't fit into the lock as the lock has been damaged, perhaps because of a failed attempt at burglary. There are so many things that can go wrong, and it's so easy to get locked out of your own car. Now let's see how you can get back into it.
Do You Have a Spare Key?
If you have a spare key, you can start relaxing immediately. That solves your problem and there's no reason to worry any more. Spare keys are essential to any key-lock combination. They can be very useful in situations where you have either lost or damaged the original key. If you have a spare key – problem solved. Just grab it and get yourself out of the messy situation.
However, most people leave their spare keys in the car itself. They usually leave it in the glove box of the car. Now, that doesn't help matters much, does it? But at least it's there in the car, so you can still get it out.
Now, if you have an older model, you will need to lock each car door separately – unlike as in newer models were all the doors are automatically locked on pressing the key fob. So do check any of the doors are open in case you have an older model and get locked out. If so, you will be able to access the spare key.
Else, look for an access point in the trunk of the car. Many cars can be entered through the trunk by folding the back seats. Is that possible with your car? If so, you are in luck. You should be able to get the car started in no time at all.
DIY Solutions for the Lockout
There are several DIY solutions that can help you get out of the lockout as well. But you will need to be very creative here. While it is always better to call an automotive locksmith or car locksmith when you are locked out, there are a few things that you can try yourself. You can try tools such as shoelaces and coat hangers to unlock the locking mechanism of your car. Of course, you will need to practice doing this beforehand, but it will serve you well when you are in trouble.
Call an Automotive Locksmith or Car Locksmith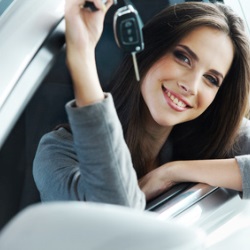 The best solution to a car lockout – when you do not have a spare key with you or an easy access to one is to call a trusted professional locksmith service and ask for an automotive locksmith or car locksmith. DIY solutions may not work for you every time, so it's always better to have a locksmith's number saved in your phone's contacts. Most automotive locksmiths take 30 to 60 minutes to arrive at your location, wherever you are. They are well equipped to unlock the car for you and it hardly takes them ten minutes or so to do their job.
Their prices depend on the services that are required by you. For example, in some cases you may just want the car to be unlocked and nothing else, while in other cases; it may not be enough to just get the car unlocked. You will need a spare key to start the car and get it moving again. When you call a trusted automotive locksmith, they unlock the car and make sure that you get in, without any damage of any sort caused to the car.
The locksmith would make a spare key for you, but this would cost you more and take some time. Just be sure to do your research and look for the best professional locksmith services in your area. Once you do, hold on to them for the long term as you never know when you might need to call them.