High security locks represent an impressive evolutionary leap in the world of security measures and products. Traditional manual locks still provide a good level of protection, but they are not perfect by any means. There are some weaknesses that you need to be aware of. These weaknesses will serve to illustrate why high security locks might be a better way to go.
Standard Locks vs. High Security Locks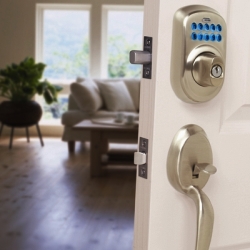 One of the biggest weaknesses with standard locks is the fact that standard locks can be duplicated with relative ease. Even if your key has a "Do Not Duplicate" warning stamped on it, you will find that most locksmiths will ignore the warning, and make a copy of the key anyway!
Another significant, exasperating weakness is the fact that standard locks can be picked with relative ease. With a standard lock, you're talking about a cylinder that can be picked using a wide variety of simple tools. Some manual locks demand more skill to pick than others, but many can be taken down by even the most inexperienced thief.
And even with a manual lock that is difficult to pick, virtually all standard locks can be drilled open in hardly any time at all. You don't have to be an expert by any means to know how to use a drill to pick a lock.
Take serious your homes security!
All of these weaknesses are worth taking seriously. All of them are going to leave you to wonder what your alternatives are. Thankfully, high security locks represent an excellent alternative to the current standard manual locks. You can take full advantage of the many different styles and brands of high security locks that are currently available to consumers. Most brands and styles come with the same laundry list of benefits. With high security locks, you're getting something that is going to be patented or otherwise restricted in some form or fashion. Even then, complex equipment is necessary to make a duplicate. It is considerably more difficult to copy a high security lock, than it is to copy a standard lock.
The list of benefits continue. High security locks can stand up to the pressures of drilling. Picking is a certainly a concern, as well, but with the high security option, it is going to be next-to-impossible. The mechanisms that make up high security locks makes picking extremely difficult.
With all this in mind, it is easy to understand why many prefer the peace of mind of high security lock.
So what are you waiting for? Hire our professional locksmith services to install new security locks in your home. – Feel what high security feels like and sleep easy at night knowing that you are safe.